Dates : 19-23 March 2011 

Venue : Hangzhou, China

Conference : Computer Supported Cooperative Work 2011 (CSCW 2011)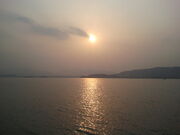 About the Conference CSCW 2011 was held this year in the scenic city of Hangzhou, China. The first time this conference has been held in the Asian region, the aim of the conference was to connect CSCW-related researchers from Asia to the rest of the world. Hangzhou, a city known for it's bridges, influenced the theme for this year's this year's conference: "Building Bridges".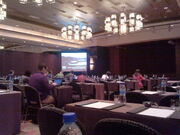 As a forum for the computer supported cooperative work community, CSCW is the premiere forum for academic and industry researchers to disseminate ground-breaking work in related fields. Practitioners and researchers from backgrounds such as HCI, engineering, social sciences, business and more came to present and discuss new ways technology coordinates recreational and social activities.
NUS Mixed Reality Lab Presence at CSCW As well as it being the first time CSCW has been held outside of Europe and North America, it was also the first time the NUS Mixed Reality Lab (MXR) published and sent representatives to the conference. I was fortunate enough to present a Showcase paper co-written by Prof. Cheok, Roshan and Newton. This paper not only outlined the immense wealth of projects produced by the lab over its decade-long existence, but also presented a categorized genealogy of projects. This genealogy explained how projects influenced one another, all beginning with the lab's seminal work, Human Packman.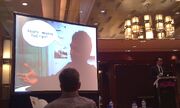 Another very important element of our presentation was the discussion of a lab process and methodology for conceiving research projects called "Blue Sky Innovation". In one sentence, Blue Sky Innovation is:
a process in which to develop as imaginative concepts as possible without being constrained by technical feasibility, commercial marketability or any other practical boundary
Reflections on Inquiry by Audience Members Reaction from the CSCW community was generally positive. They were most impressed by the wide breath of works and were entertained by some of the labs more crazy ideas. Once particularly interesting question asked by the audience was when we considered users into our ideation process. I answered that we have users always in mind, but that our research is driven by the need to make "quantum steps" and that we are more akin to a "Mad Scientist" approach. I went on to comment that in order for research to be pushed to it's outermost boundaries, we need to be much more forward thinking then the average user. By doing this, we hopefully generate future needs and wants for users that might not even know they are users yet.