Conference: Siggraph Asia 2011
Date: 12-15 December, 2011
Place: Hong Kong Convention & Exhibition Center
Website:http://www.siggraph.org/asia2011/
The food printer project got selected as a demo in Emerging Technology in Siggraph Asia, so I went together with Wei Jun to show the demo. The conference lasted for 4 days, and the exhibition is from 13-15 Dec.
So on 12th we went there to set up the demo. As the food printer is left at Singapore, the most important part is to set up the internet connection so that our application can control the food printer remotely. Unfortunately, I found my laptop crashed after I landed in Hong Kong, so it was not able to be used for the demo and we only had one laptop to show the demo.
There were many people attending the conference and visiting the Emerging Technology exhibition. This time, the Emerging Technology and Art Gallery are hosted together. So there were a mixture of technical and art works which brings interesting variations to the audience. A collection of the ETech exhibitions can be found here: http://www.siggraph.org/asia2011/emerging-technologies and the art gallery exhibitions can be found here: http://www.siggraph.org/asia2011/art-gallery
Many people visited our booth, and many are interested or surprised to see our demonstration. Some commented that they have never seen such kind of things before and they would like to have one if it is portable.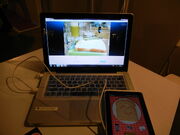 Many of them tried on our Android interface to draw a pattern for printing, and they were very happy to see that it was able to control the machine remotely. For all three days Xavier was helping in Singapore side to change the bread every time a new pattern has been printed, and we were really grateful for his help. Sometimes the application encounters problem when the network is unstable, but most of the time the demo went smoothly.
There were many other interesting demos, and many of them are from KMD. I finally got a chance to try the Chewing Jockey, which augments the eating experience by playing some sound when the system detects the jaw motion. It is a very interesting experience.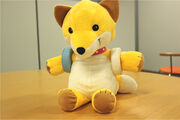 The pinoky is also a very interesting one, which uses a ring shaped device to record and actuate the plush toys.
In this way, the plush toy can be animated like a robot, but you don't need to cut the plush toy since the actuator is outside.
The 360-degree fog projection display is also quite impressive, which is able to show a 3D image on a cylindrical fog screen. What is amazing is that it does not require very expensive or specialized hardware,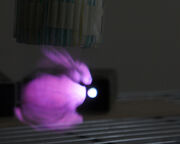 and anyone can make their own fog display simply using a humidifier and some straws to direct the fog. However, it is not true 360-degree at the moment, and I think it would be really cool to see it working in 360 degree.